Advanced Translation Memory
Maintain consistency with our Advanced Translation Memory feature.
When using our Advanced Translation Memory feature, our fuzzy matching tool will surface similar translations, allowing you to select parts of previous translations to use in the current phrase's translation.
This will help to keep your translations consistent across phrases and will save you time and money in your translation workflows.
Watch this short video for an overview of how to use the Advanced Translation Memory feature.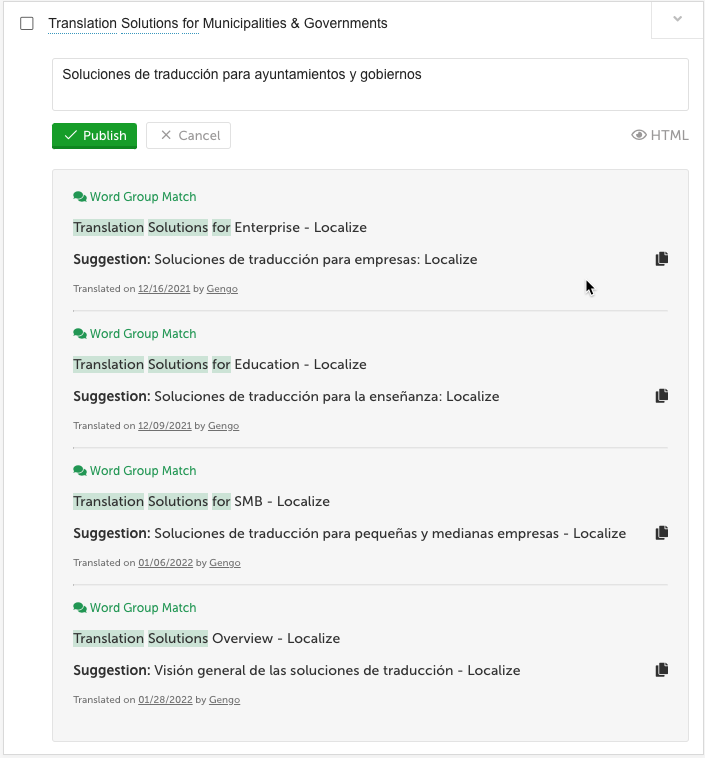 Matching parts of the phrase in each Word Group Match will be highlighted to show which words they match in the source phrase.
When you hover over a specific Word Group Match you'll see that the corresponding words in the source phrase are highlighted.

This allows you to see which parts of the current source phrase match those in the suggested Word Group Match.

Simply copy the part of the translation that you wish to use, and paste it into the appropriate place in the translation for the current source phrase.
You can also see who translated the phrase and when.

This could help you to decide which matching translation you might want to use.
For example, you would probably want to select a human translation over a machine translation.
This will also allow you to verify that your human translators are being consistent by comparing human translations for similar phrases.
---