Searching and Filtering
Finding phrases in the Phrases tab of your Localize dashboard
For applications with a lot of content, finding specific phrases can be challenging. Localize offers several ways to help you search and filter phrases in the Phrases tab of your Localize dashboard.
Using Multiple Filters

Keep in mind that you can use many combinations of the following filters to dig down deep to find specific phrases.
Search Bar
You can use the search bar to search for:
Text in the source language
Text in any of the target languages
Simply start typing in the search bar and Localize will start searching as you type.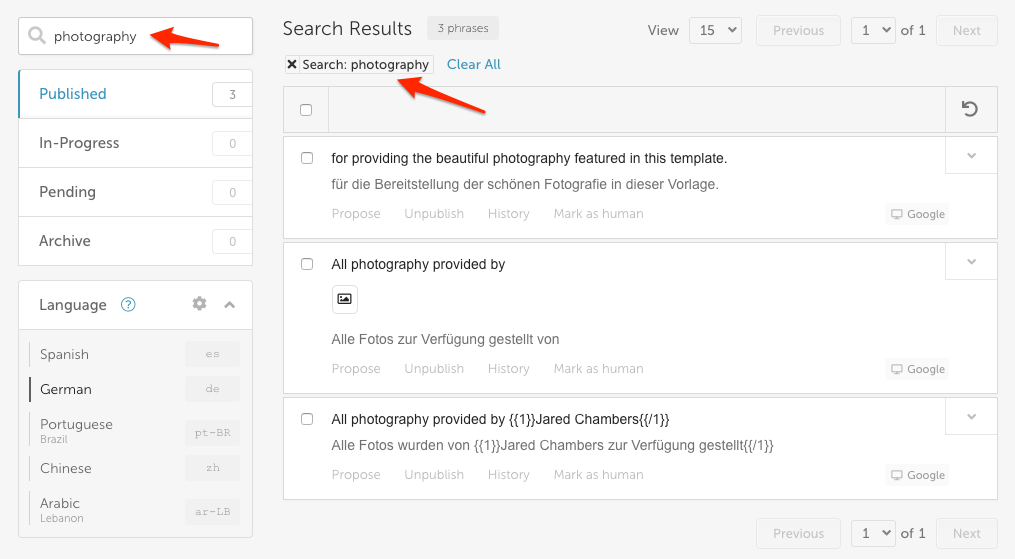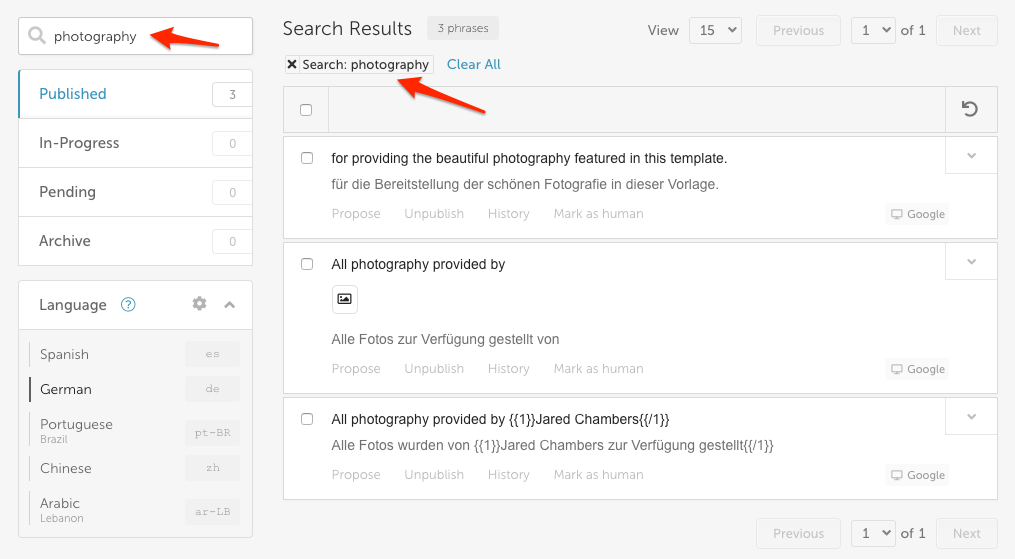 Note: If you search with a target language text string and that target language isn't the currently selected language, the search text will still be found and the source language phrase will be displayed with the currently selected language's translation (if available). Switching to the target language of the search text will display the translation in that target language.
---
Filters
Filter by Bin
You can filter which phrases you are viewing by selecting the specific Bin that you wish to view, based on the phrase states.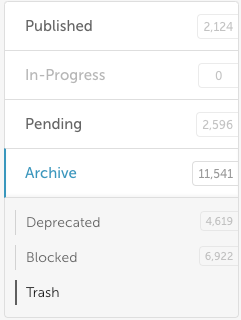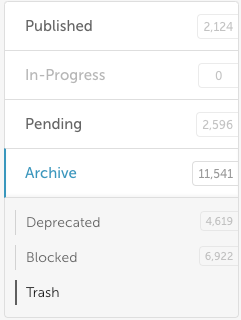 ---
Filter by Language
Selecting a specific language will show translations for the selected language.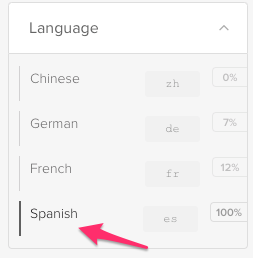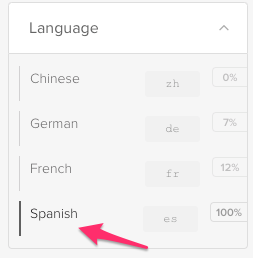 ---
Filter by Pages
(not applicable in Mobile App projects)
Selecting a page/folder from the filter by Pages list will show all phrases in that page or folder.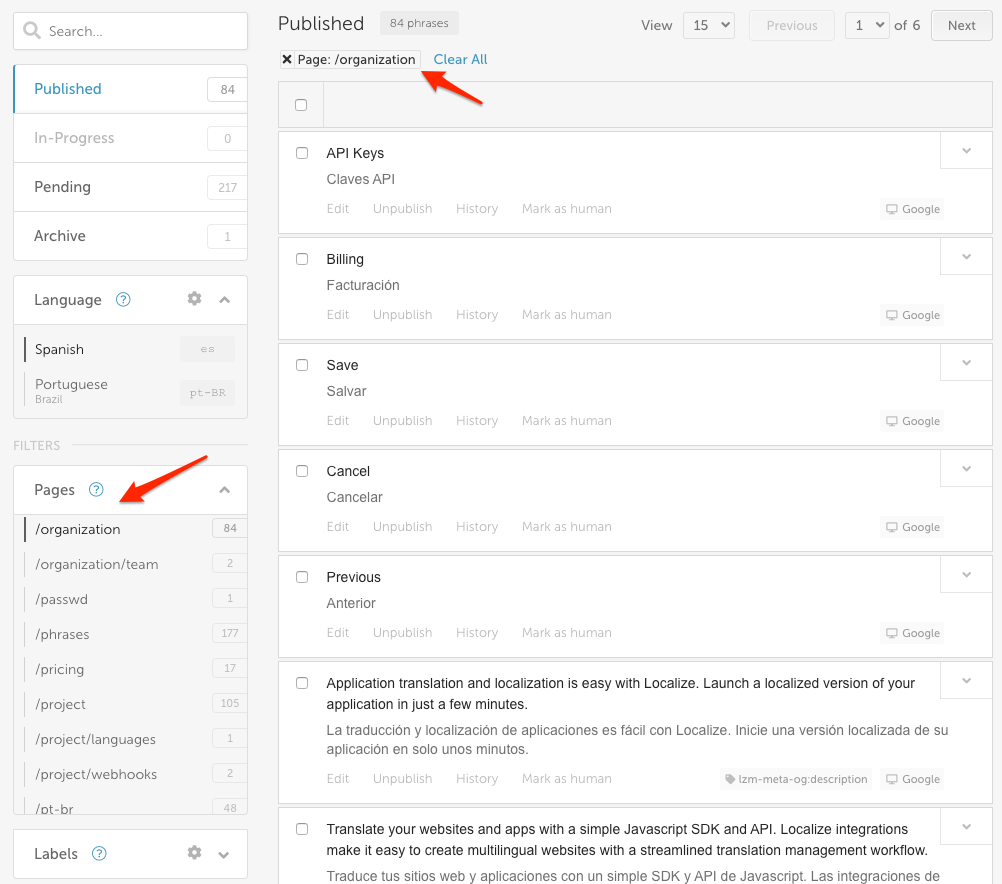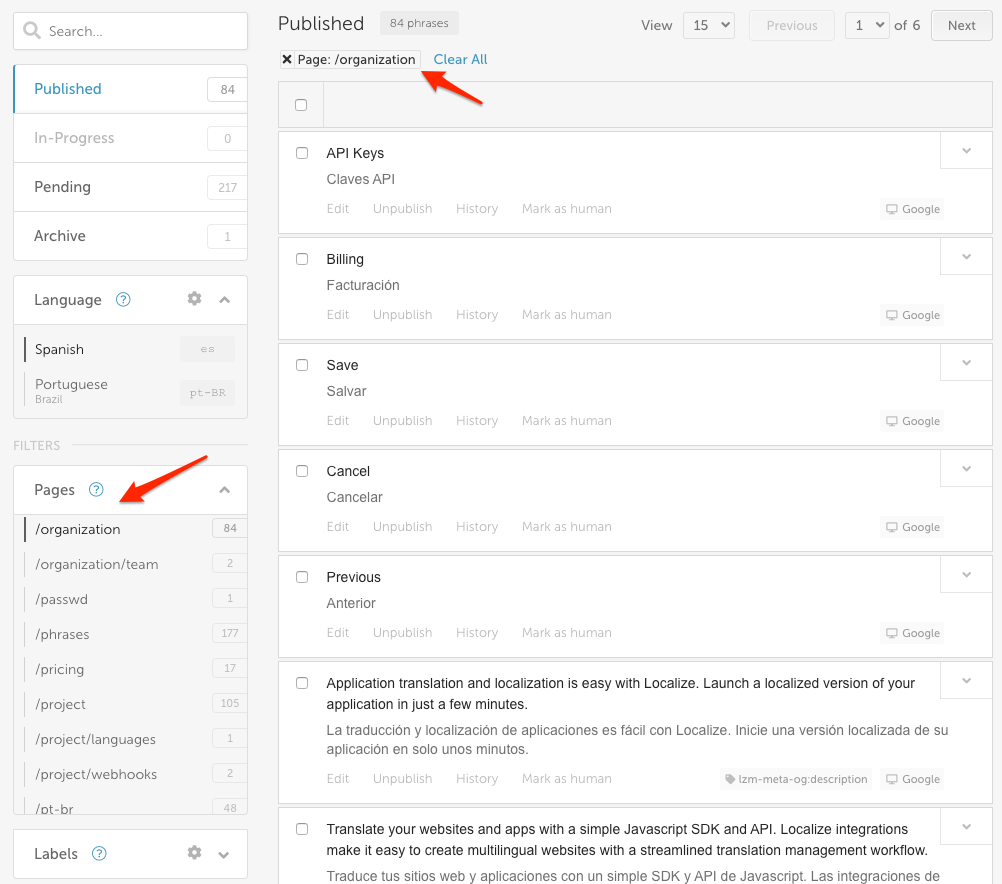 3 Levels Deep

The Pages filter goes up to 3 folders deep. If you have content that is in deeper subfolders, it will be visible in its parent folder when using this filter.
---
Filter by Labels
If you have added any custom labels to your phrases, you can filter by one or more labels. You can also filter by System Labels.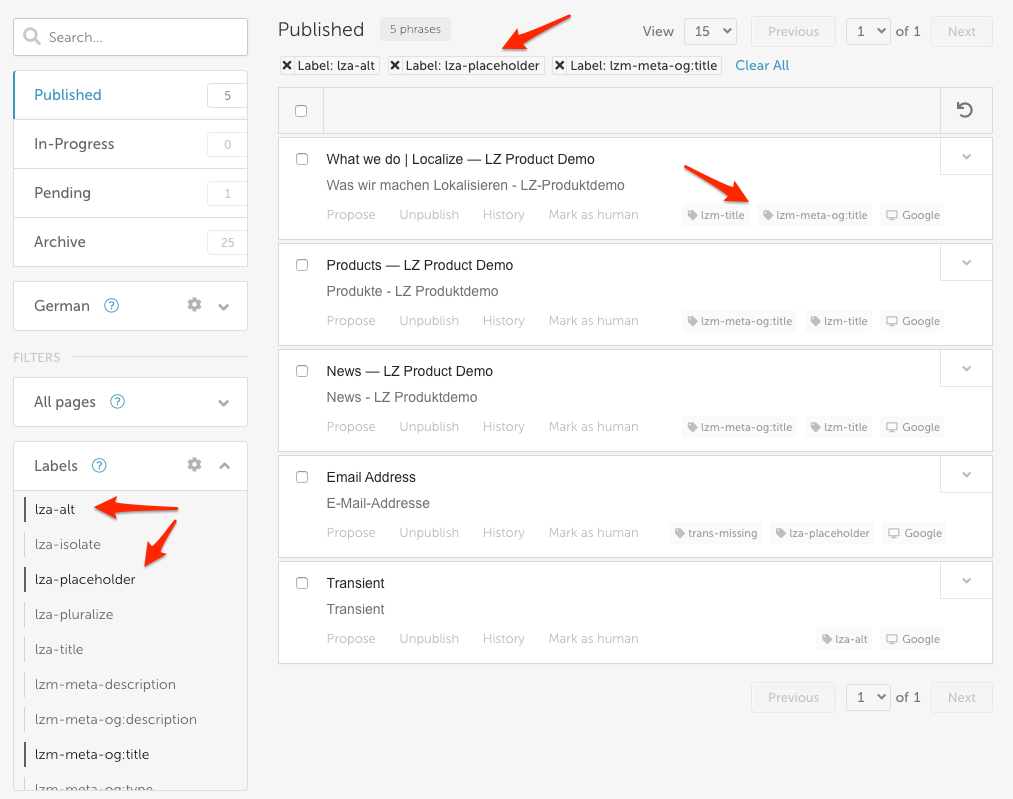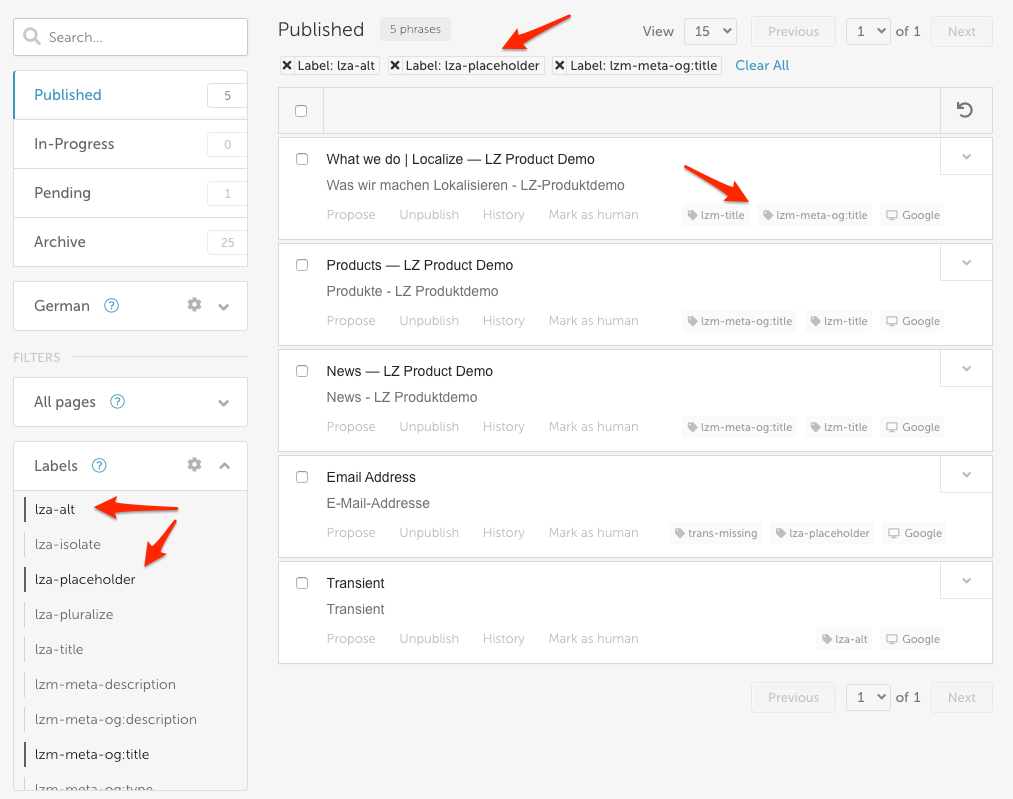 NOTE: To filter by multiple labels, simply select each of the desired labels in the list.
---
Filter by Translated By
You can use one or more of the many filters in the "Translated By" filter, including translated by machine, translated by any human, or translated by a specific human.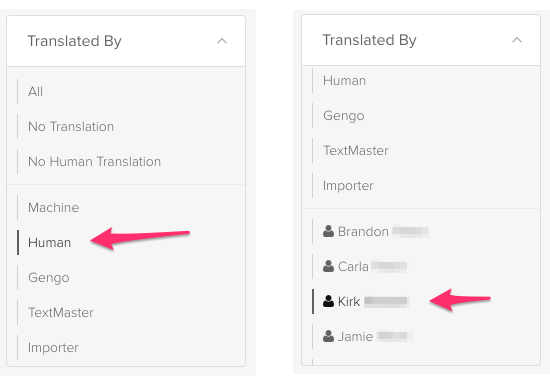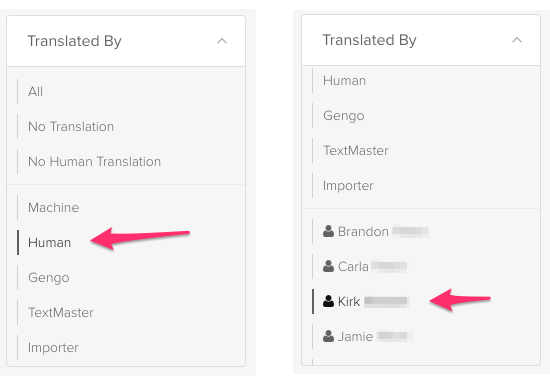 Finding phrases not yet translated by a human

If you are trying to find all phrases that have not yet been translated by a human, use the "Translated by: No Human Translation" filter.

The "Translated by: Machine" filter shows all phrases that were ever translated by machine.
---
Filter by Created
You can filter by the date or time period that phrases were created.
Select a preset range from the list, or select your own custom date range using the calendar.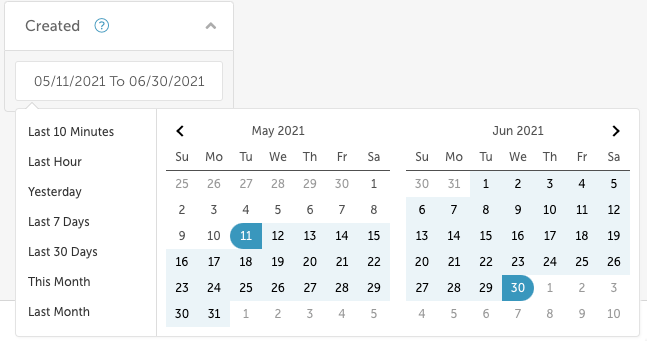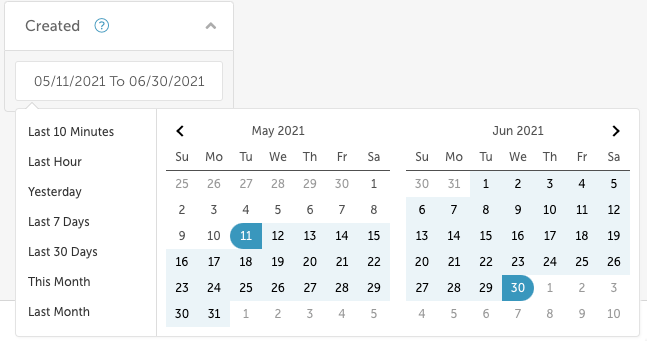 ---