Introduction to Localize
Meet the Localize cloud-based translation management service
The Localize Translation Management System (TMS) delivers the most advanced user experience on the market today, with all the tools you need to effectively manage your translation workflow.
Market research shows that when users can read your content in their own language, your sales will increase, allowing you to add new target markets. Using Localize makes your localization process a breeze!
The Localize TMS dashboard and related translation tools make it easy to manage, organize, and translate all content in your website, mobile apps, documents, and more!
We provide 3 main methods for localizing your content:
Localize for Web

Used for websites and web apps, Localize for Web offers automated content detection and translation delivery, with compatibility for almost any website.

Localize for Mobile

Used for mobile app localization, this files-based approach allows you to import and export your content for use in your mobile apps.

Localize for Documents

Localize all of your documents right in your Localize dashboard.
If you are localizing websites, mobile apps, and documents, you can manage all of your localization efforts in one seamless platform.
---
Localize for Web
You can achieve website localization simply by executing a one-line JavaScript snippet in the frontend of your website. It's one line of source code that will change the experience for visitors who want to read your content in their native language.
Watch this short video to get a quick overview of how Localize for Web works.
(Click here for a more detailed description of how website translations get delivered to end-users.)
By integrating Localize into the frontend of your website, Localize can begin to:
Automatically identify source language text in the HTML of your application or web page, bringing it into the dashboard to be translated into foreign languages
Automatically replace the source content in your site with translated text (after translations have been added)
Adapt the text for pluralization and variables
Help you build a multilingual website and go global via multilingual SEO, improving your search engine rankings!
---
Localize for Mobile
When developing a mobile app, content is typically stored in resource files that are loaded into the app with a separate file for each target language supported in the app.
Localize for Mobile provides various methods to import and export files in advanced file formats that are typically used in mobile app localization projects like Android, iOS, and React Native. Importing and exporting can be done via the:
Once imported, you can use your Localize dashboard to manage your translation workflow, including ordering human translations directly within the dashboard.
---
Localize for Documents
With Localize for Documents you can manage the translation process for all of your external documents right in your Localize dashboard.
Upload your source documents
Generate machine translations (and soon human translations!)
Allow translators to download source documents and upload the translated versions
---
Localize Dashboard
With your Localize dashboard you can:
View content and translations
Add or remove languages
Order professional translations directly from the dashboard
Invite team members, including translators
Create User Groups
Use our Task Manager
Create Project Announcements
Add screenshots to phrases to provide context to your translators
Use the In-Context Editor to view and edit translated strings directly on your website
Use the Glossary as part of your translation memory
Add a new language to your project in minutes!
And much more
---
Getting Started - Signing Up
Localize allows your visitors to learn more about you and your business in their preferred native language. It only takes a few minutes to get started. You can sign up for a Free Trial by following these instructions.
Use your Google Login

You have the option of creating your Localize user account by using your Google login.
Simply click the button when creating your user account.
Step 1: Create your user account
First create your user account by filling in your personal information.
Your email address will be your login name. You also have the option of signing up with your Google account.
Step 2: Create an organization
Next enter your company information.
Step 3: Create a project
Fill in the form to create your first Project.
Configure your project by selecting your source language and what language you want your application to be translated to, your target language. If you are internationalizing into multiple languages, you can add them here or add them later.
You have the option to create a Website/Web App, Mobile App, or Documents project.
---
Localize Video Walkthrough
Dig deeper with our complete Localize Video Walkthrough tutorial:
You can click on a chapter marker to jump to different parts of the video.
Or view all of the available chapters by clicking on the chapter list icon.
---
Overview of Organizations & Projects
This diagram visually shows the relationships between Organizations and Projects in the Localize TMS.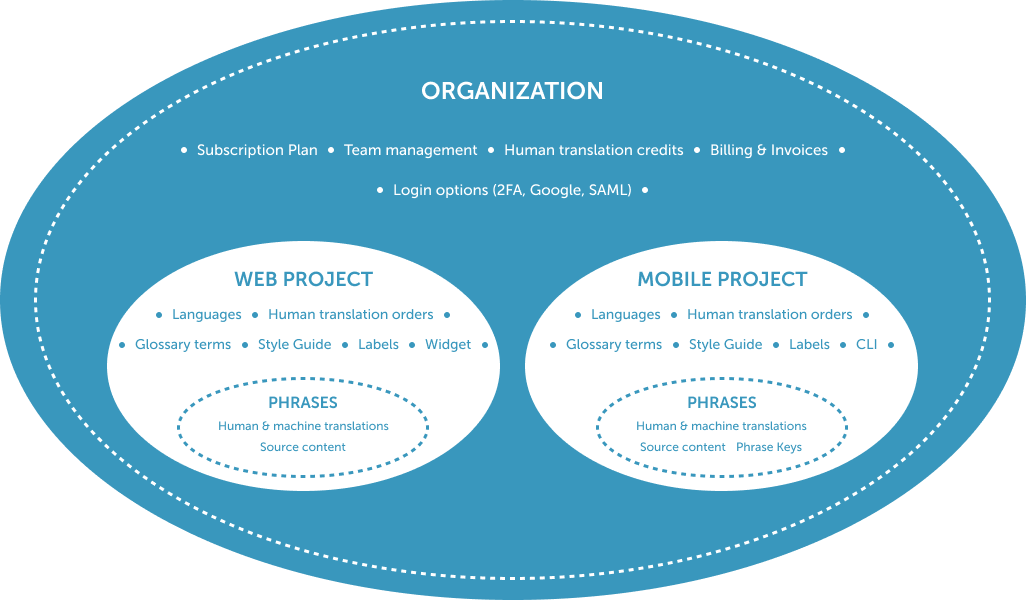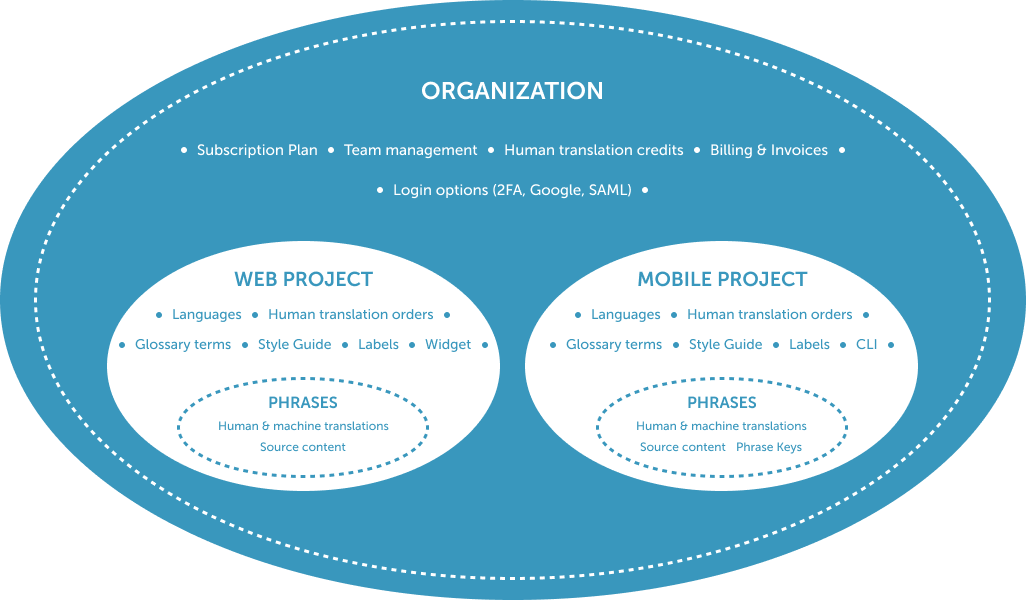 Click on the diagram to view it larger.
About Organizations
Each paid Localize subscription (or free trial) is associated with its own Organization.
An Organization can have multiple Projects.
Team Members are counted based on the Organization.
The following are counted across all Projects in your Subscription Plan:

Number of Pageviews
Number of Machine language translations
Number of REST API calls
Self-Service
Localize is a fully self-serve product. We do not manage translators, check translation quality, or approve/block/publish content on your behalf, even for our Enterprise customers (unless these types of localization services are requested in your contract).
About Projects
All content within a Project is associated with a unique Project Key.
Target Language usage is counted per Project.

You can have different languages in each of your Projects, as long as the total number of languages in any one Project doesn't exceed your plan limits.

Project Announcements are specific to that Project.
Multiple Domains in one Project
A Project Key may be shared (with translations for content) across multiple domains at no additional cost.
This allows you to use one Project to manage all content across multiple domains if desired.
---
Getting Support
We're here to help, whether you are new to Localize or a current customer.
New to Localize?
We're happy to discuss your localization needs and determine if Localize is a good fit. Reach out to our sales team using any of the following options:
Current customer?
Click on the support icon in the top navigation bar. Then select one of the many ways available to help yourself, or reach out and let us help you.


Help Center
Visit our Help Center to get quick answers to commonly asked questions. (where you are now!)
Developer Documentation
Developer? Dig deeper into our Developer Docs.
Discussion Board
Visit our Community Forum where you can ask questions, provide answers, and share tips, tricks, and more.
Contact Support
Need help? Submit a ticket to our customer support team. We're here to help!
Schedule a Call
Have questions? Book a call with a member of our customer success team.
Updated about 2 months ago
---