Translation QA
Allows translation managers to review proposed translations before publishing.
Watch this short video for an overview of the Translation QA Workflow feature. It could be an important part of your translation management workflows.
Enable the 'Translation QA' feature
Visit your Project Settings and select the Translation QA checkbox, then click Save.

After enabling the 'Translation QA' feature, once you've approved a phrase from the Pending: Needs Approval bin, the phrase moves into the 'Translation QA' bin: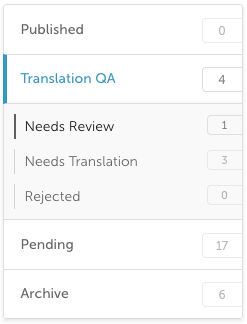 Review translations before publishing
If you turned on automatic machine translations, machine translation will be instantly ordered and added to each phrase. In this case, the phrase will be moved to the Needs Review bin. Otherwise, it will be moved to the Needs Translation bin.
When translations pass a quality review simply click Publish to activate it live on your application.

📘

Publishing Translations is Language-Specific

Translations have a unique status for each language. Publishing a proposed translation in Arabic, for example, would not change the status of another proposed translation in another language.
Proposing Translations
For phrases in the Needs Translation bin, you can add a translation by selecting Propose translation.

After entering the proposed translation, select Propose, and the phrase will move into the Needs Review bin.

Declining Proposed Translations
Sometimes, translations won't pass a quality review. When that happens, use the Decline option to reject that translation.
When declining, remember to provide an explanation to the translator as to why the translation is inaccurate.

Clicking Reject will move the phrase into the Rejected bin.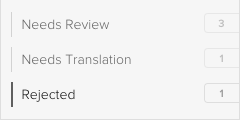 Translators will see the comment and have an opportunity to propose a new translation.

📘

How-to Guide

Check out our How to invite your own translators and approve their work using the Translation QA Workflow guide for more details on how to use the Translation QA Workflow feature.
Translation History
Click History to view any prior translations.

---
FAQs
What happens to a live translation if I make a proposed translation for a phrase?

The current translation will remain active while the new translation is in progress. Only when (or if) the new translation is moved to published will it replace the live translation.

How can I remove a live translation from my website when Translation QA is enabled?

Changing the translation state to "Review" from the phrase dropdown will remove the active translation from the website and set the translation to review. You can also "Unpublish" the phrase.
---
Need Help?
Contact us for help or troubleshooting!
---