Machine Translations
Machine translations provide a quick and easy way to get started on your localization project.
Localize provides machine translations at no additional charge, subject to the limitations described herein. While machine translations aren't always perfect, they provide a good foundation to get you started and are often sufficient depending on your project requirements.
Machine Translation Setup
You can order automatically generated machine translations using one of our supported Machine Translation Engines (MTEs). This option is enabled by default, with the Google MTE selected as the default MTE for the Project. However, you can select a different MTE for each language in your project!
Go to the Languages page in the Manage Project area.
Select the checkbox to toggle this option on or off.
Click on Machine Translation Settings to choose the desired MTE per language.
You can change the default MTE for the entire project.
Then you can change the MTE for the desired languages.
When ready, click Save.

📘

Google Glossary Sync

This allows you to automate the translation of your glossary terms when using the Google Translate engine. Read more here about this feature.
Smart quotes vs Straight quotes
If you use "smart quotes" (the ones that curl around the text) rather than "straight quotes", Google translates them using the double angle brackets or « guillemets » when translating to French (and other languages).
For example:

Editing Machine Translations
Once you have machine translations, you may choose to make edits to improve styling and quality. There are two ways to go about this:
Invite your own in-house translators to your project to review the translations and make any necessary edits prior to or after publication.
Place an order directly through the Localize platform with one of our third party Translation Service Providers (Gengo or Textmasters).
Machine Translation Limits
Machine translations are included at no charge. However, there is a limit to number of machine translations allowable per a 30-day period depending on the plan you are subscribed to. Machine character limits are published on our pricing page.
Watch this short video to learn how the rolling 30-day time period works when calculating machine translation character count limits.
For all subscribers, the machine translation limit of X million characters refers to the number of characters we allow you to submit for machine translations in any 30-day period. For example, the phrase "testing" would count as 7 characters out of X,000,000 with 1 language enabled.
Once a machine translation is received, it does not continue to count against the X,000,000 limit.
📘

Free Trial Limit

If you are on a Free Trial, you have access to 1 million characters of free machine translation during your trial.
If you exceed the allowable number of machine translations for any rolling 30-day period, you will stop receiving new machine translations until the total once again goes below the limit.
Sometimes you will end up with phrases in your Published bin that didn't get translations due to exceeding the limit.
However, the next time a new phrase is moved to the Published bin, ALL phrases in the Published bin that don't have translations will receive machine translations (again, up to the allowable limit).
You will receive an email warning as you approach the limit (giving you the option to upgrade your plan). You will also see a notice in your dashboard if you have exceeded the machine translation limit for the current 30-day period.
If you require more machine translations, you can upgrade your plan.
View Current Usage
To see your current usage of machine translations:
Click on your Organization name.
Select Settings.
Select the Billing tab.
The Machine Translation Usage for the past 30 days will be displayed in the chart.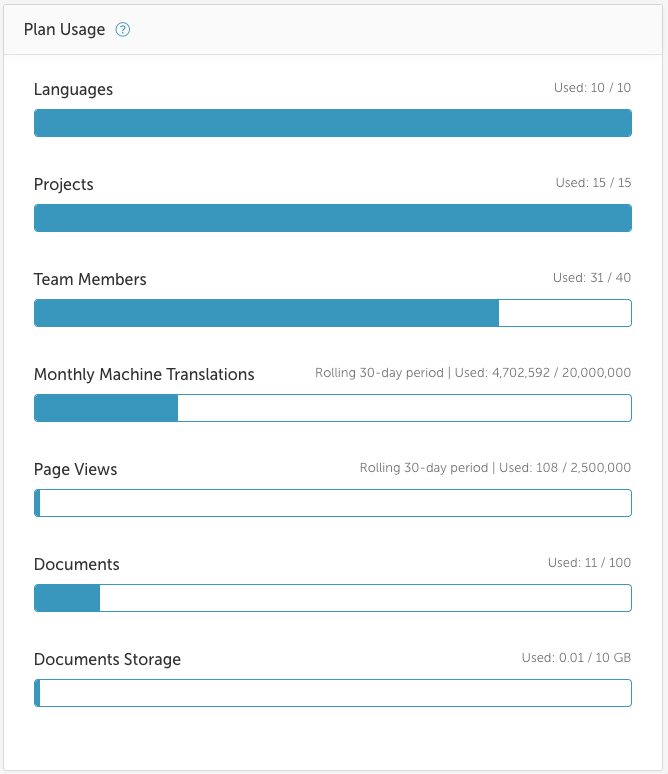 📘

Billing Permissions

Billing permissions are required to see this chart.
On some Localize subscription plans, you also have a Machine Translation usage report available to you, which will show more details.
---