Localize Training
Quickly become a Localize expert with our on-demand or live training tools.
Quickstart Guides
Want to jump straight in? Our Quickstart Guides will provide all the basic steps you need to get started. We offer guides for each of the Localize Project types and a detailed guide for Translators.
| Quickstart Guide | Description |
| --- | --- |
|   Web | The Localize For Web Quickstart Guide will give you a step-by-step guide to get your website connected to your Localize dashboard and translations started. |
|   Mobile | With Localize For Mobile, this guide will walk you through creating an automated integration between your mobile app and your Localize dashboard. |
|  Documents | Use Localize For Documents to create and manage translations for all of your external documents right in your Localize dashboard. |
|   Emails | Easily translate your emails with Localize. |
|  Subtitles | Easily translate the subtitles in your audio and video files with Localize. |
|   Translators | As a translator, there are several workflow options to choose from to best manage your translations in the Localize dashboard. |
We also offer technical guides for you developers to help with integrating Localize inside of our Developer documentation.
Localize Video Library
Level up your translation workflow with these informative on-demand training videos. The Video Library has curated playlists for every user role in Localize. Just choose your role and dive in!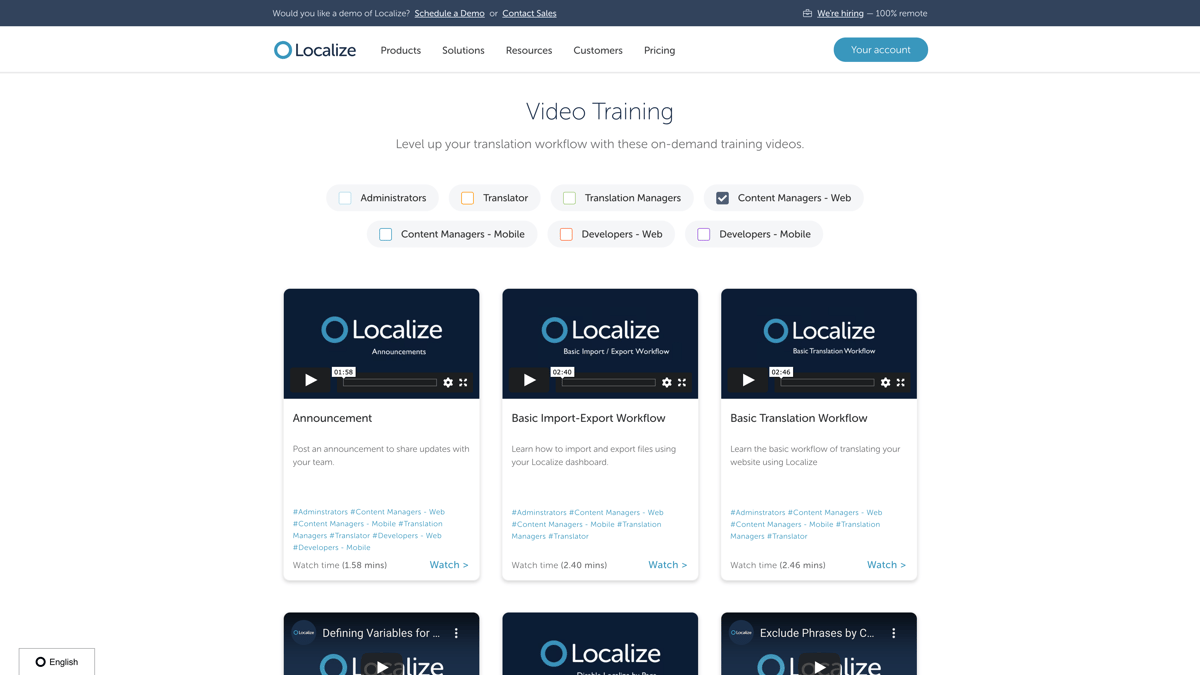 Localize Webinars
Localize offers two outstanding webinars to help you become successful in your localization goals; Localize Basics for a great introduction as you get started and Localize New Product Features to keep up with the latest product improvements. You can register for each of our webinars using the links below.
| Localize Webinar | Description |
| --- | --- |
| Localize Basics | The Localize Basics webinar for new Localize users covers all the basic information needed to get started using Localize! We'll cover how to initialize Localize, how to set up projects, and how to translate your pending phrases for publication. |
| New Product Features | The Localize New Product Features webinar will show you how our powerful new features are used to save you both time and money. We will work through several use case examples and discuss best practices for optimizing these new tools. |
One-on-one Training
Our Partner Edition plans also have access to one-on-one training with a dedicated Customer Success Manager. Invite your whole team and learn how to make the most out of your Localize account, best practices for organizing your projects, and maximizing time and cost savings.
Contact your Account Manager or our Sales Team to discuss our One on one training options and schedule a training session for your team.
---