Project Announcements
Facilitate communication within your team using announcements.
The Announcements feature on the Project Overview page can be used to facilitate communication between team members.
Watch this short video to learn about Announcements.
Localize will also post important notifications in the announcements area when appropriate.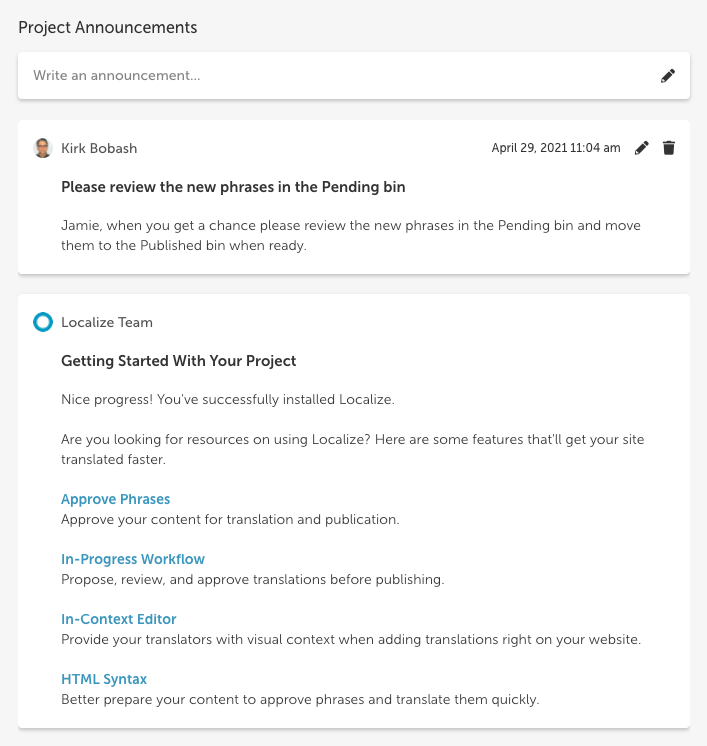 Create a New Announcement
To create a new announcement, click the pencil icon (or anywhere in the "Write an announcement" bar). Enter a Subject and write your announcement, then click Post.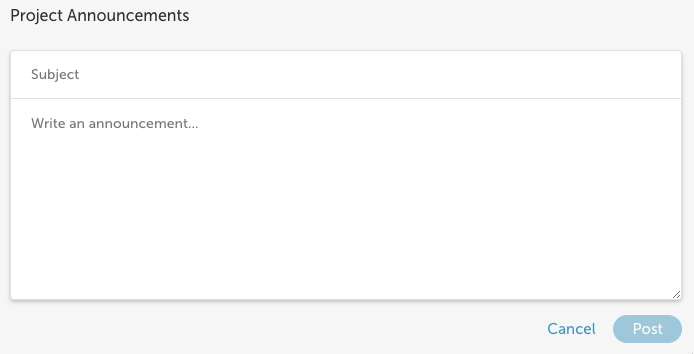 Edit an Announcement
You can edit an announcement that you wrote by clicking the pencil icon.
Simply make your modifications and click Save.

Delete an Announcement
You can delete an announcement that you created by clicking the trashcan icon.
Replying to an Announcement
You can reply to an announcement by clicking into the "Write a reply..." text field and entering your reply.
Tagging Someone in an Announcement
When you create an announcement or a reply, you can also tag someone with an @mention by typing an @ sign, then selecting a team member from the list. That team member will get an email notification of your post.
Notifications
Email Notifications
After you create a new announcement, the announcement will be sent to the team via email, and will be available to all team members in the Project Overview page.
In-app Notifications
An in-app notification of new announcements will also be available if you click on the bell icon in the top/right corner of the screen in the dashboard.
Click any of the View in announcements links to view that announcement.
You can also mark an announcement as Read, or Mark all as read.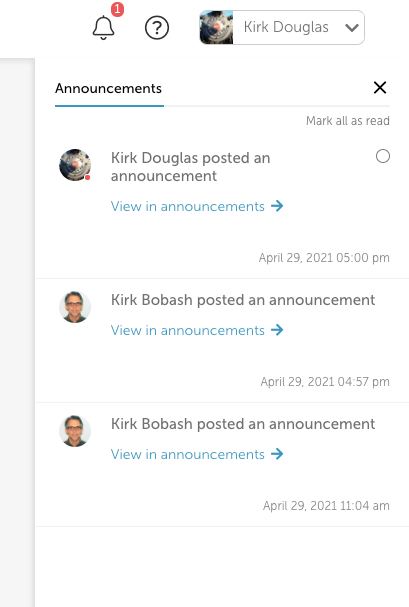 Permissions for Announcements
To be able to post announcements, a team member must be granted permissions to do so at the project level. See how to enable permissions in this doc.
---